Below are some excerpts from the business plan for MADhouse, the concept that brings to together many of the themes of our organization, particularly the music programs outlined at Our Programs. If you have any comments, can help in any way, or would like a full copy of the business plan, please Contact Us.

*******************************************************************************************

1.0 Concept

"What good am I if I see and don't do?"



- Bob Dylan

"Some see things that are and ask why.


I dream of things that never were and ask why not"

- Robert F. Kennedy

"There is nothing so powerful as an idea whose time has come"

- Victor Hugo

The following is an idea whose time has come.

The idea is the world's first non-profit music venue and gathering place. Music is a truly powerful and universal force and musical artists have a long history of supporting humanist and social issues, from 60's protest songs to 90's stadium concerts, but no one has ever established a permanent venue for the express purpose of celebrating the power of music and benefiting charitable organizations. This concept has been dubbed MADhouse, not only because it promotes Music And Dance, or because it's for those of us who are MAD about the lack of humanity in the world, but also because we hope to Make A Difference by dealing with issues head-on in the most effective ways possible. We plan to challenge people with: "What are you MAD about?"

Our first step is to open an initial venue in Los Angeles, which is not only the premiere music and nightlife location in the country, but also the crossroads of many world cultures that have settled in this country. Once the idea is well received, as we believe it will be, we foresee the MADhouse becoming the next House of Blues or Hard Rock Café (which also started with a unique idea and has since expanded to over 100 venues around the world). However, the difference with MADhouse is that, instead of benefiting a small group of owners and investors; we will benefit a variety of charitable and social causes. Rather than donating a portion of the profits, all profits will be donated to worthy programs and causes. We are not seeking investors - we are seeking sponsors, supporters and artists who want to Make A Difference.

We realize this is a radical and revolutionary idea in the hospitality industry. However, we are more than willing to risk accusations of "naivety", "idealism", or "insanity" from those who don't understand in order to attract support from those who do. The concept of music as a unifying force to provide common ground and charity is a proven one with a well-known history of events (e.g. Live Aid, Farm Aid, Amnesty International benefits, and Net Aid just to name a few). The concept simply needs to be taken to the next logical step. This project is huge and the road ahead may be steep, but a journey of a thousand miles begins with a single step. This document is that first step.

"Let us put our minds together,


and see what life we can make for our children."

- Chief Sitting Bull

1.1 Objectives

The concrete, measurable objectives of our plan are as follows:
To secure interest and commitments from high-profile members of the artistic community in order to provide the publicity needed to generate public and industry interest.



Leverage the above commitments to obtain initial start-up funding from corporate sponsorships, grants from private foundations, and tax-deductible contributions from individuals. We will strive to keep traditional financing from venture capital and financial institutions to a minimum in order to retain more profits for charitable programs.



To locate, fit-out, staff, and open an 12,000 square foot, 600-person capacity flagship location and host a high-profile grand opening event by Thanksgiving, 2005.



To maintain effective, hands-on control of costs, operations, and cash flow through diligent management and automated computer applications. To achieve beverage costs under 23% of revenue and food costs under 29% of revenue.



To generate enough cash flow to repay all debt financing within the first few months of operation, becoming self-sufficient thereafter.



To contribute $1 million per year to charitable programs and causes.



To maintain a high level of name recognition for MADhouse and awareness of our operations and programs, providing the opportunity to expand to other locations and/or other cities during the second three-year period.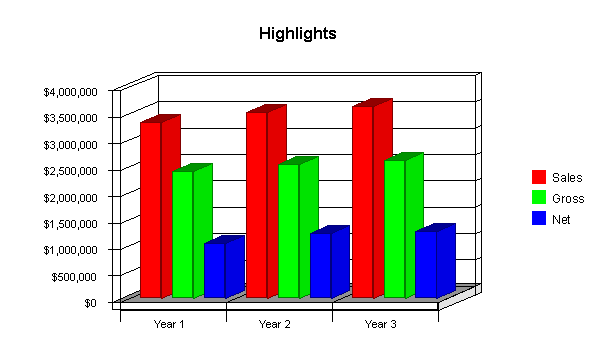 1.2 Mission
We believe people are social animals - we love to have a good time and we love to get together with old friends, meet new friends and have new experiences.


We also believe that most people have a natural desire to help those less fortunate than themselves.


Our mission is to provide an environment and opportunity for people to not only enjoy themselves in a high-quality, good-value venue, but also to learn about the world and make a positive impact both individually and collectively.


We recognize that people don't like to be preached to or guilt-tripped, so MADhouse will provide a unique opportunity for good times to naturally result in good deeds in a low-pressure atmosphere. We will provide a new type of experience - one that combines music, friends, food and drink in a relaxed, casual, low-ego atmosphere for true music fans - people who feel music in their bones, know that lyrics are sometimes poetry, remember the first album they bought and their first concert, have flashbacks when they hear certain songs, and are not afraid to dance or scream every now and again. Unlike many places in Los Angeles, MADhouse will be a place to be, rather than a place to be seen.
Our message is simple: From the time humans began banging sticks and rocks together, music has enriched our lives - providing not only a means to communicate, socialize, create, and celebrate, but also an excuse to let loose, have fun and experience life together.
"One Love, One Heart. Let's get together and feel all right"

- Bob Marley
1.3 Keys to Success
A. As with most entertainment ventures, the primary key to success is traffic - to attract new customers and give previous visitors a reason to come back. The keys to traffic are:
· Music. If MADhouse can attract just a fraction of the number of artists who have previously shown an interest in supporting non-profits, then we will generate a significant amount of interest in our venue. For example, A-list artists like, U2, REM, Bruce Springsteen, Bob Dylan, Santana, Neil Young, etc. have developed their own following of devoted fans who would follow them anywhere and pay a significant price premium for admission. A history of artist involvement in causes is at Section 1.4.
These artists have also shown an interest in acknowledging the role of music in society and recognizing it's importance to all cultures, thereby generating interest in the "World Music" aspects of Madhouse's mission and programs. Performances by A-list artists (planned as just one per month) will serve as revenue sources in support of other nights of musical and cultural education.
· Atmosphere. We will provide an atmosphere of comfort and friendliness. We want our guests to feel at home, as if our venue was their oasis.
· Service. We will hire quality employees dedicated to guests' enjoyment and provide training and incentive programs to motivate excellence.
· Value. We will structure and carefully monitor prices for admission; food and beverages to ensure that guests are satisfied that they have obtained good quality entertainment for their dollar.
· Location and convenience. We will strive to obtain a central location with adequate and secure parking.
B. Strict control of costs at all times, without exception
C. Managing internal finances and cash flow to achieve rapid debt repayment and maximum charitable contributions.
1.4 A History of Artist Involvement
MADhouse will succeed simply because the concept of using music to bring people together for a common cause has been so successful in the past. From the time 60's folks singers like Bob Dylan and Joan Baez wrote protest songs like "Blowing in the Wind" to Bruce Springsteen's "41 Shots", there have been dozens of social issues and worthy causes to which musicians have donated their time and efforts. A short history of musical activism follows:
In the 1960's, the Vietnam War stimulated protest songs by the likes of Creedence Clearwater Revival, Jimi Hendrix, Crosby, Stills and Nash, and Buffalo Springfield.



In 1971, George Harrison organized the first specific-purpose Concert for Bangladesh featuring Ringo Starr, Eric Clapton and Bob Dylan.



Jackson Browne spearheaded the No Nukes series of anti-nuclear concerts in 1979, which featured Bonnie Raitt, James Taylor, Carly Simon, Doobie Brothers, CSN, Bruce Springsteen and Tom Petty.



In 1984, the group of English artists called Band Aid recorded "Do they Know It's Christmas" to aid Ethiopian famine victims.



Inspired by Band Aid, dozens of artists allied as USA for Africa recorded "We Are The World", the biggest-selling single in history, to aid famine relief in Africa.



Africa also benefited from the granddaddy of all benefit concerts – the Live Aid concert in 1985 that straddled the Atlantic between London and Philadelphia and included Rolling Stones, U2, Paul McCartney, Eric Clapton, Elton John, Queen, Santana, Bob Dylan, Neil Young, Dire Straits, Madonna, INXS, Bryan Adams, Beach Boys, CSN, Sting, Pretenders, Simple Minds, Tom Petty, The Cars, Run DMC, Judas Priest, Four Tops, Duran Duran and the reunions of the Who, Black Sabbath and Led Zepplin (with Phil Collins on drums replacing the late Jon Bonham).



Inspired by Live Aid, it took just two months for John Mellencamp, Willie Nelson and Neil Young to organize Farm Aid, which continues to this day with the help of Johnny Cash, Simon and Garfunkel, Beach Boys, Bryan Adams, Dave Matthews, Beck and Phish.



In 1986, Neil Young started his annual concerts to benefit the Bridge School for people with severe speech and physical impairments. These are also still running and have attracted bands like Pearl Jam, REM, Tom Petty, Elvis Costello, Pretenders, David Bowie, Phish, Wallflowers, Barenaked Ladies and Sarah McLachlin.



A series of concerts to benefit Amnesty International took place throughout the 80's and 90's - including the "Secret Policemen's Ball" series. Artists included Sting, Phil Collins, Eric Clapton, Jeff Beck, Bruce Springsteen, Tracy Chapman, Peter Gabriel, Alanis Morissette, Radiohead, Robert Plant & Jimmy Page and Shania Twain



In the 80s and 90s, the AIDS epidemic brought together many artists for benefit concerts and compilation albums - most notably Elton John and the "Red Hot" series.

In 1999 NetAid concerts were held to harness the internet to fight extreme poverty throughout the world. The concerts featured dozens of artists, including David Bowie, Bono, Robbie Williams, Bryan Adams, Bush, George Michael, Black Crowes, Mary J. Blige, Sheryl Crow, Michael Stipe, Busta Rhymes, Puff Daddy, Jewel, Wyclef Jean, Stereophonics, Eurythmics and Jimmy Page




The artistic response to the tragedy of September 11, 2001 was immediate and dramatic as hundreds of artists volunteered to help the victims and their families. Several events were scheduled - including the television telethon America - A Tribute To Heroes ( Bruce Springsteen, Paul Simon, Neil young, Tom Petty, Alicia Keys, U2, Limp Bizkit, Sting, Celine Dion, Enrique Inglesias, Mariah Carey, Stevie Wonder, Sheryl Crowe, Wyclef Jean, Faith Hill, Billy Joel, the Dixie Chicks, and Willie Nelson); The Concert For New York (Paul McCartney, The Who, Eric Clapton, Buddy Guy, Mick Jagger, Keith Richards, John Mellencamp, David Bowie, James Taylor, Macy Gray, bon Jovi, Goo Goo Dolls, Melissa Etheridge, Elton John, Billy Joel, Janet Jackson, Destiny's Child, Backstreet Boys, Jay-Z, Five For Fighting); United We Stand (Michael Jackson, Backstreet boys, N'Sync, Aaron Carter, Al Green, Ricky Martin, Aerosmith, James Brown and Mick Jagger, Mariah Carey, Bette Midler, Destiny's Child); and Let Freedom Ring (Martina McBride, Alan Jackson, George Jones, Lonestar, Lee Ann Womack, Keith Urban, Sara Evans, Diamond Rio, Montgomery Gentry, Hank Williams Jr., Brooks & Dunn, Vince Gill, Trisha Yearwood, Tim McGraw, Earl Scruggs and Clint Black, George Strait and Montgomery Gentry)
Other benefit concerts over the last few years include:

· Race to Erase Multiple Sclerosis - Stevie Wonder, Brian McKnight, Donna Summer, Cher

· Anti-Landmine Benefit - Paul McCartney and Paul Simon

· The Third Waltz – Windy City's Neon Street Programs for Homeless Youth – Smashing Pumpkins, Marianne Faithful, members of Wilco, Jayhawks, Cheap Trick

· Debt-Free World – Lou Reed, Eurythmics

· Bama Works (various causes) - Dave Matthews Band, Neil Young

· Landmine-Free World – Emmylou Harris, Steve Earle, John Prine, Nancy Griffith

· Tibet House – David Bowie, REM, Dave Matthews Band, Phish, Patti Smith, Moby, Natalie Merchant

· San Francisco School of Arts – Santana, members of Metallica

· Wyclef Jean Foundation (music therapy for underprivileged kids) – Mary J. Blige, Eric Clapton, Destiny's Child, Whitney Houston, Wyclef Jean

· World of Toys – Stevie Wonder, Sisqo, Kirk Franklin, Jill Scott, Macy Gray

· Epiphany House, Boys and Girls Clubs, AIDS, Substance Abuse, Food Bank, Health Clinics - Bruce Springsteen

· The Grace Center - David Crosby, Graham Nash

· Gimme Shelter – Shelby Lynne, Bangles

· Hollywood-Sunset Free Clinic – Beck, Aimee Mann, Rufus Wainwright

· Rainforest Foundation – Ricky Martin, Sting, James Taylor, Elton John, Billy Joel, Percy Sledge, Macy Gray, Martha Reeves

· Dream Foundation - Kenny Loggins, Melissa Ethridge, Graham Nash, David Crosby, Christopher Cross

· Crossroads Treatment Center – Eric Clapton, Bob Dylan, Sheryl Crow, Mary J. Blige, D'Angelo

· Toys For Tots – John Mellencamp, Brian Setzer Orchestra

Artists have also contributed efforts to the following compilation albums:

· Mockingbird Foundation – Children's charities – Phish, Dave Matthews Band, Jimmy Buffett

· Keeping the Dream Alive – Race to Erase Multiple Sclerosis - Stevie Wonder, Donna Summer, Brian McKnight, Destiny's Child, Macy Gray, R. Kelly, Gloria Estefan, 98 Degrees, Wyclef Jean, Des'ree, Jamiroquai

· Walk Unafraid – Southern Poverty Law Center – REM, Billy Corgan, Foo Fighters, Stone Temple Pilots, Collective Soul

· Wintertime Blues – Habitat For Humanity – Edwin McCain, Susan Tedeschi, Warren Haynes, Derek Trucks, Cry of Love

· Stop Racism – Anti-Racism Action – Less Than Jake, Napalm Death, Jello Biafra, H20, The Toasters

· No Boundaries – Kosovo Refugee Relief – Pearl Jam, Alanis Morissette, Rage Against The Machine, Neil Young, Black Sabbath, Bush, Oasis, Wallflowers, Peter Gabriel, Tori Amos, Indigo Girls, Sarah McLachlin, Ben Folds Five, KORN, Jamiroquai

· For Our Children – Pediatric AIDS Foundation – Bob Dylan, Sting, Barbra Streisand, Paul McCartney, Elton John, Bruce Springsteen, Jackson Browne, Carole King, Celine Dion, Seal, Toni Braxton, Natalie Cole, Natalie Merchant, Cher

· Brothers and Sisters – AIDS benefit of various artists

· The Solution – Heal The Bay – Reel Big Fish, Less Than Jake, Jealous Sound, Bad Religion, The Killingtons

· Human Heart – Homeless assistance– various artists

· Merryville Academy for Abused Children - Pete Townsend, Eddie Vedder

· Honor the Earth – Native American Charities – Soul Asylum, Jim Boyd, Jane Siberry, Luka Bloom, Toad The Wet Sprocket, Bonnie Raitt, Latin Playboys, Indigo Girls, Mathew Sweet

· Re:source – Rock benefit for orphaned children – various artists

· Refuge – Benefit for the people of Kosovo – Peter Gabriel and others

· Friends for Life – Save The Children

· Common Thread - To Save Walden Pond - Eagles covers by country stars like Travis Tritt, Clint Black, Alan Jackson, Vince Gill and Tanya Tucker.

· Season of Hope – St. Jude Children's Research Hospital – Travis Tritt, Clint Black, Alabama, Lorrie Morgan

· Red, Hot And Blue – AIDS Foundation – U2, Annie Lennox, Sinead O'Connor, David Byrne, Neville Brothers, Tom Waits, k.d. Lang

· Red, Hot And Dance – AIDS Foundation - Madonna, George Michael, Seal, EMF, PM Dawn

· No Alternative – AIDS Foundation – Smashing Pumpkins, Soul Asylum, Urge Overkill, Nirvana, Pavement, Patti Smith

· Power of Peace – CARE – Celine Dion, Chaka Khan, Chris De Burgh, Kenny Rogers, David Sanborn, Wynonna Judd

· Sun City – Artists United Against Apartheid – Bruce Springsteen, Bob Dylan, Pat Benatar

· Do They Know It's Christmas – Band Aid – Bob Geldof, U2, Phil Collins, David Bowie, Eurythmics, Culture Club, Human League, George Michael, Paul Young, Midge Ure, Sting, Duran Duran, Kool and the Gang, Bananarama

· We are the World - USA for Africa - Quincy Jones, The Jackson Five, Smokey Robinson, Diana Ross, Stevie Wonder, Billy Joel, Bob Dylan, Bruce Springsteen, Lionel Ritchie, Ray Charles, Tina Turner, Paul Simon, Bob Geldof, Al Jarreau, Willie Nelson, Waylon Jennings, Bob Geldof, Cyndi Lauper, Huey Lewis, Steve Perry, Kenny Loggins, Bette Midler, Jeffrey Osborne, Pointer Sisters, Kenny Rogers, Dionne Warwick, James Ingram, Daryl Hall

There have been many other events, concerts and benefit albums with hundreds of artists from all genres of music. David Crosby even wrote a book about caring artists called Stand and Be Counted. Our belief is that the creative community will continue to support charitable causes and would be happy to support a permanent venue such as MADhouse. In short, this is already a proven concept – it just hasn't been extended to the next logical level.

3.0 Operations Summary
MADhouse will be managed on a completely non-profit basis, with all funds remaining after expenses contributed to various charities and programs. In accordance with IRS regulations, guests will be provided tax-deductible receipts for any contributions in excess of the fair market value for entrance, food and drinks. Guests will be given tokens representing the value of their donations and asked which of a variety of causes they would like to support. Based on the guest's choice, tokens will be tossed into clear glass tubes behind the bar which represent the various programs, so all visitors can see at a glance the level of support provided to each. Unlike for-profit ventures, which sometimes provide a loosely defined "portion of profits" to charity, MADhouse will distribute all profits for charitable purposes. Operations will be completely transparent, with summaries of donations, expenses and contributions towards programs posted to the internet.


The size of the venue will be approximately 12,000 square feet and will support a capacity of 600 people. We initially plan to open Tuesday-Saturday, with an opportunity to expand.


As MADhouse will be much smaller than most arenas and concert venues, the performance atmosphere will be casual and intimate to encourage improvisation and experimentation on stage as well as interaction with the audience. We envision a space similar to MTV Unplugged or VH-1 Storytellers. We anticipate many national acts will enjoy the opportunity to return to their "roots" of small clubs in a low-key environment or to try out new material.


The backbone of the music will be good old-fashioned Rock n' Roll, with root influences like Blues, R&B, Funk and Soul tossed in. However, the overall objective is to broaden the musical experience of our guests, providing them with an opportunity to hear music from different cultures they may not have otherwise experienced. In conjunction with cultural clubs and international music programs at local universities, MADhouse will sponsor "World Music" nights, complete with themed decorations, food and drink. One resource for this music is the UCLA Center for Intercultural Performance, which recently sponsored the annual World Festival of Sacred Music. These events will be hands-on, with the opportunity to not only hear the music, but also touch and feel the instruments and meet the performers. We aspire to be known as the place to go for unique experiences related to music of the world. On non-live nights we will have DJ-managed promotions such as "Jazz Night", "Reggae Jam", "Blues Explosion", "Revenge of the 70's", "Acoustic Party", "Drum Circle", "Comedy Night" and "Poetry Slam". In short, our booking and entertainment policy will be geared toward providing alternative, diverse musical experience.


In order to provide friendly competition and increase social interaction, there will be a gaming area, which includes billiards, ping-pong, foosball and darts. We will sponsor and promote tournaments and leagues to give further opportunity for customers to return and build a vested interest in the venue.


Food sales will not be a primary objective of the club in its initial stages since a complete, sit-down restaurant adds a significant level of complexity to the operation. We will start with high quality bar snacks and small dishes like healthy deli sandwiches, salads, grilled chicken, burgers (meat and veggie), burritos, soups and stews, coffees and deserts. The objective is to provide filling, inexpensive food to dissuade guests from leaving and spending the better part of their evening elsewhere. As mentioned above, during "World Music" performances, we will feature dishes representative of the cultures of the performers.


We will have a small selection of merchandise available, such as hats, shirts, glasses, bumper stickers and posters. One of our mottos will be "What are you MAD about?"


On days when the venue is closed (Sunday-Tuesday), our space will be made available for free to other non-profit and community groups for meetings, events, or luncheons and to local artists and musicians as a performance, practice, or workshop space.
3.1 Design Elements
MADhouse will be an eclectic, casual place with distinct elements such as:
Performance area and dance floor

Bar area for casual stand-up drinking

Sit-down area for relaxed conversation

Gallery-like room for viewing works of local artists

Video projection area with large screen video

Gaming area

Outdoor or patio area with plants and fresh air
In line with the objectives of promoting interaction and learning, we envision a casual, friendly, low-ego, non-threatening atmosphere with a funky, international, thought-provoking décor. Our hope is to have not only a venue for music and a place to get together with friends, but also a place comfortable enough to contemplate art, debate politics, think about poetry, and broaden one's mind. For example, the walls will be covered with works by local artists and quotes from writers, philosophers and musicians - some famous, others surprising:

"None but ourselves can free our minds" - Bob Marley

"Be the change you would like to see in the world" - Mahatma Gandhi

"I have a dream,


that my four little children will one day live in a nation,


where they will not be judged by the color of their skin,


but by the content of their character" - M. L. King, Jr.

"Excuse me while I kiss the sky" – Jimi Hendrix

"To do injustice is more disgraceful than to suffer it" - Plato

"I don't believe it has to be this way" - John Mellencamp

"I am part of all that I have met" - Alfred Lord Tennyson

"Fight The Power" – Public Enemy

"We did not inherit the earth from our ancestors,


we are borrowing it from our children" – Unknown

"How many times can a man turn his head


and pretend that he just doesn't see" – Bob Dylan

"Knowledge is power" - Thomas Hobbes

"Feed Your Head" – Jefferson Airplane

"Ignorance is the father of all fear" - Herman Melville

"I'd love to change the world, but I don't know what to do


- so I leave it up to you" – Ten Years After

"I will allow no man to drag me so low as to hate him" - Booker T. Washington

"All that you have is your soul" - Tracy Chapman

"I am not poor. Poor are those who desire many things" - Leonardo Da Vinci

"It ain't no sin to be glad you're alive" – Bruce Springsteen

"The world doesn't owe you anything. It was here first." - Mark Twain

"What's so funny about peace, love and understanding?" – Elvis Costello

We will also feature quotes and handprints of artists who perform. Memorabilia has been a proven attraction for both Hard Rock Cafe and House Of Blues, so we will attempt to obtain instruments, posters, gold records, and other items from artists, but without the sterile, corporate feel of the huge venues. In an effort to promote interactivity and creativity, we will also allow guests to add their two cents worth to our walls (within reason).

3.2 Representative Charities

The following is an initial list of organizations to be supported on a rotating basis based on input and support levels received from visitors. We have selected organizations in six major areas of concern. Some are international and well know, while others are local to provide a direct impact on our home communities. On any given night, we may highlight a handful of these, or select a different beneficiary based on input from performers. For example, a local band may be interested in Heal The Bay, while an international act like Bruce Springsteen has highlighted regional food banks during his concerts. The organizations will be monitored to ensure fiscal responsibility and compliance with their charitable purposes by reference to charity watchdog organizations such as Better Business Bureau, American Institute of Philanthropy, National Charities Information Bureau and Guidestar. In addition to supporting these organizations financially, we will partner with them to take advantage of their membership, contacts and supporters for promotional and publicity opportunities.

A. Cultural Tolerance:

B. Environment/Conservation:

C. Assistance to Children and Families:
Save The Children – Since starting in 1932 to assist the children of impoverished coal miners in Appalachia, it now serves children in over 45 countries with education, health and economic opportunities. www.savethechildren.org


Oxfam – Increasing human dignity with humanitarian and development programs, campaigning and advocacy work. www.oxfaminternational.org


Habitat For Humanity - Brings families and communities in need together with volunteers and resources to build decent, affordable housing. www.habitat.org


Los Angeles Regional Food Bank – Mobilizes the resources of our community to fight hunger. www.lafightshunger.org


Family Services of Santa Monica – A local service providing counseling and support to families in need since 1925.


Covenant House – Since 1972, the country's largest privately funded childcare agency provides food, shelter, clothing, crisis care, education and vocational training to homeless youth. www.covenanthouse.org


A Place Called Home – A program in South-Central LA "to provide at-risk youth with a secure, positive family environment where they can regain hope and belief, earn trust and self respect and learn skills to lead a productive lifestyle free of gangs, drugs and poverty that surrounds them." www.apch.org


Heart Of Los Angeles Youth (HOLA) - Over a decade of helping the kids of the Rampart area of Los Angeles by providing programs in a number of areas such as visual and performing arts, computers, tutoring, job preparation and sports. www.heartofla.org
D. Health Care:
American Cancer Society – "Nationwide community-based voluntary health organization dedicated to eliminating cancer as a major health problem" www.cancer.org


Starlight Children's Foundation - "Brightening the lives of seriously ill children and their families" for 20 years. www.starlight.org


AIDS Project LA – Provides direct support service to men, women and children living with HIV/AIDS in Los Angeles County since 1982. www.apla.org


Meals on Wheels – Delivering meals and nutrition to elderly, infirm and otherwise needy people for over 30 years. www.projectmeal.org


Make a Wish Foundation – The world's largest wish-granting organization for sick and disadvantaged kids. www.wish.org


Musicians On Call - uses music to complement the healing process for patients in healthcare facilities – www.musiciansoncall.org


Boys and Girls Clubs of America – "To inspire and enable young people, especially those from disadvantaged circumstances, to realize their full potential as productive, responsible, caring citizens." www.bgca.org


Special Olympics – An international program of year-round sports training and competition for children and adults with mental retardation. www.specialolympics.org


Nature Camps for At-Risk Youth - such as YMCA
E. Education, Arts and Humanities:
American Indian College Fund – Helping thousands of Native American students attend 32 tribal colleges since 1989. www.collegefund.org


County of Los Angeles Public Library Literacy Program - an affiliate of Literacy Volunteers of America – Has served adults at the lowest levels of literacy and their families since 1962, assisting over half a million people to acquire literacy skills. http://www.colapublib.org/services/literacy/


Save The Music Foundation - A non-profit initiative with two primary missions: To restore music education programs in America's public schools, and to raise awareness of the positive impact music participation has on students. www.savethemusic.org


One World scholarship funds - See Programs


One World film production, writing, art and poetry programs - See Programs


Local arts councils and programs - Such as the Ryman Program and the Hollywood Interarts Council.
F. Human Rights:
Human Rights Watch – The largest US-based human rights organization stands with victims activists, lawyers, academics, professionals to prevent discrimination, uphold political freedom, protect people from inhumane conduct in wartime and to bring offenders to justice. www.hrw.org


Amnesty International – Forty years of campaigning to free political prisoners and prisoners of conscience, expose torture, political killing and "disappearances". www.amnesty.org


Transparency International – A civil society organization dedicated to curbing international and national corruption, with affiliates in 78 countries. www.transparency.org

·

·