We will be making some really cool merchandise available so our members and friends can show their support and shared belief in a better world. The first items are T-Shirts as shown below.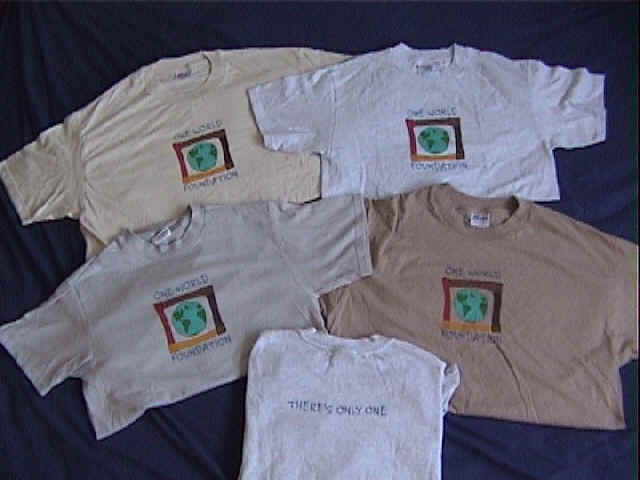 We're not design experts (as indicated by our homegrown logo), but our T-Shirt printer tells us that the upper left color is called "natural", the upper right "ash gray", the lower left "ice gray", and the lower right "pebble". All of them have our motto "There's Only One" across the shoulder blades in the back. They are all Hanes Beefy-T 100% preshrunk cotton and are currently available in Extra-Large, Large and Medium.
And the Best Part: For a limited time they are free with a $20 tax deductible contribution payable to One World Foundation. And what does this contribution go toward? - See Programs
Please email your order to info@oneworldfound.org so we can prepare your shipment and follow up with a (sorry!) snail-mail check. We are currently looking into e-commerce options.
Stay Tuned for other goodies like hats, polos and mugs.
Thanks!
Please stay tuned!